Penny's Pottery
"If you want a golden rule that will fit everything, this is it: Have nothing in your houses that you do not know to be useful or believe to be beautiful."
William Morris.
In 1962 Penny Sheehy came across a derelict dance hall in the small windswept seaside village of Ventry, in south-western Ireland. Seeing its potential as a studio and a showroom for her newly started ceramics enterprise; she invested everything she had , then some more, and it became hers.
Over the next couple of years, juggling family life with four children, she bought a small second-hand gas fired kiln and a potters wheel. Fuelled by her passion for art and creating she began making -and to her delight- selling basic functional table ware.
From there she diversified her range to include personalised mugs with people's names on them. Such was the demand for for these that before long she had taken two employees and filled shelf upon shelf with named mugs along with teapots, plates, jugs and anything else anybody wished.
Her now renowned Blue and White pottery has the same appeal as it did fifty years ago: pretty, functional, durable and handmade. Today Penny is still very much involved in the business, though her daughters have taken over the day to day running of the pottery.
Today we are striving to maintain what led to the company success from the start and we keep our pot simple and unpretentious, with an emphasis on usability. Our ceramics are made to be used and enjoyed.
Caroline and Eilis Sheehy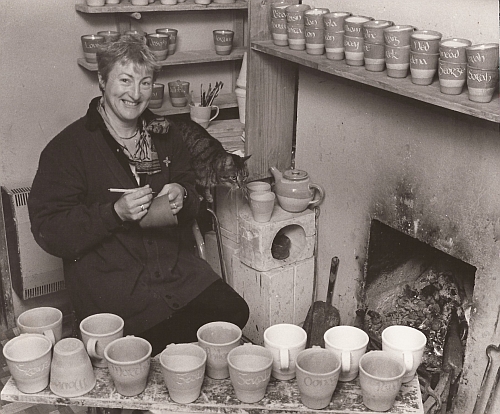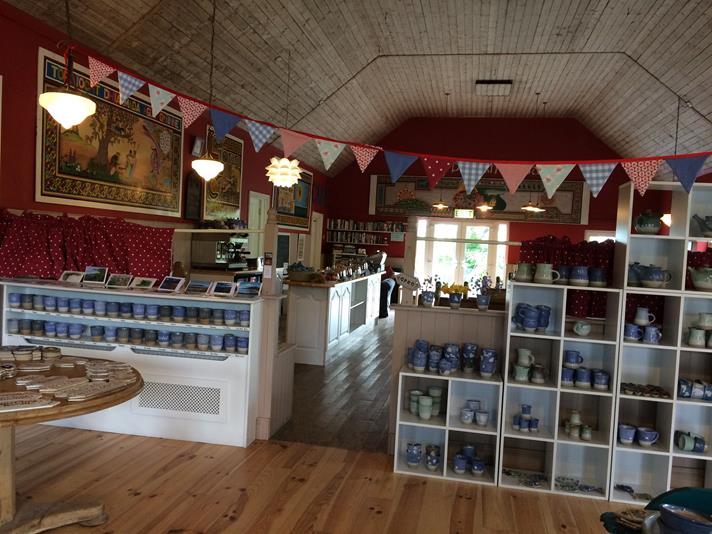 Penny's Pottery Cafe
Try out our homemade cakes, all served on penny's pottery
Cafe only open in summertime